Mommy & Me & 3
Mommy & Me is a class designed for mom and toddler to dance together! Mommys (or daddys, grandmas, grandpas, guardians!) participate and act as their child's guide to learning creative movement, locomotor skills, rhythmic basics, music appreciation, and age appropriate dance technique.



Mommy & Me is a wonderful way to spend quality time with your child! Age 2-3 (with adult)

Monday 10:30-11:15am
12 Week Session:
September 17th – December 3rd
Dance Basics
Dance Basics is an exciting introduction to the world of dance! Classes incorporate creative movement, rhythmic skills, locomotor skills, music appreciation, and age appropriate ballet technique.



Dance Basics will explore different themes throughout the semester, from Shapes to Colors to Animals to Prince/Princesses to Holiday Themes, just to name a few! Age 3-5



Saturday 9:30-10:20am
Combo Classes
Combo classes are perfect for the student looking to try several different styles of dance all in one semester!

We offer several variations of combo classes for different age groups.

Hip Hop/Jazz I – 5-8yrs – Monday 4:25-5:25 Ballet/Jazz/Tap – 4-6yrs – Tuesday 4:30-5:30
Hip Hop/Jazz II – 9-11yrs – Tuesday 5:35-6:35
Hip Hop/Jazz I – 7-9yrs – Wednesday 6:30-7:30
Lyrical Ballet – 10-14yrs – Wednesday 7:40-8:40
Ballet/Jazz/Lyrical – 8-10yrs – Sat 11:35-12:35
Jazz
Jazz classes are fast paced and energetic, with focus on classic jazz style and technique. Jazz is great for building a strong dance foundation! Warm-ups, progressions across the floor, turns, jumps, leaps and center combinations are just part of the excitement of a jazz class! Jazz technique will carry over into other styles of dance, such as Hip Hop, Tap, Modern, and is essential for girls involved with Pom dance teams. Age 5-Adult

Hip Hop/Jazz I – 5-7yrs – Monday 4:25-5:25
Int. Jazz – 12-Adult – Monday 5:30-6:30
Adv. Jazz – 12-Adult – Monday 6:35-7:50
Hip Hop/Jazz II – 9-11yrs – Tuesday 5:35-6:35
Hip Hop/Jazz I – 7-9yrs – Wednesday 6:30-7:30


8 Week Session – Sept 8 – Oct 27
Hip Hop/Jazz – Adults – Saturday 12:45-1:45
Tap
Tap will get the beat in your feet in this upbeat, rhythmical style of dance! Rhythmic skills and concentrated Tap technique will be stressed. Warm-ups, barre work, progressions across the floor, and center combinations will have you dancing like a pro in no time! Age 5-Adult

Tap I – 8-11yrs – Mon 4:25-5:25
Tap III/IV – 12-Adult – Mon 5:35-6:35
Tap I – 12-Adult – Tues 5:35-6:35
Tap II – 12-Adult – Tues 6:45-7:45
Tap III – Teen/Adult – Thurs 5:45-6:45
Ballet
Ballet is the foundation of dance! Classical ballet technique encourages the development of grace, poise, core strength, and discipline. Technical skills and terminology learned in ballet are the basis for all other dance forms. Ballet classes consist of barre warm-up, center allegro and adagio work, turns, and across the floor combinations including walatz, jumps, and leaps. Age 5-Adult

Ballet III – 12-Adult – Tuesday 6:45-8:00
Ballet I/II – 7-10yrs – Wednesday 4:25-5:25
Lyrical Ballet – 10-14yrs – Wednesday 7:40-8:40
Ballet I/II – 12-Adult – Thursday 5:35-6:35
Ballet I – 5-7yrs – Saturday 10:30-11:30
Ballet/Jazz/Lyrical – 8-10yrs – Sat 11:35–12:35

8 Week Session: Sept 8 – Oct 27
Ballet I – Adults – Saturday 12:45-1:45
Pointe & Pre-Pointe
Pointe class is for the serious Ballet student who has the consent from the dance instructor to advance to working on the full point of the foot. This beautiful art form is the natural progression from years of ballet training and study of ballet technique. All new pointe students must start in pre-pointe unless prior approval is granted from the Studio Director. Age 12-Adult

Pointe II – Teen/Adult – Tuesday 8:05-8:50
Pre-Pointe – 12-Adult – Thurs 6:40-7:25
Pointe I – 12-Adult – Thurs 6:40-7:25
Lyrical
Lyrical uses a free-flowing style of Ballet technique, combined with a hint of Jazz and Modern styles. Lyrical dance allows the student to develop a sense of personal style, self-expression, and personality of movement.


Lyrical will work on incorporating the use of the music's lyrics into your dance technique. Ballet experience is helpful, but not required. Age 8-Adult

Lyrical Ballet – 10-14yrs – Wednesday 7:40-8:40
Lyrical – Teen/Adult – Thurs 7:15-8:30
Ballet/Jazz/Lyrical – 8-10yrs – Sat 11:35-12:35
Contemporary/Modern
Explore thinking outside the box! Contemporary/Modern is designed for students who want to learn how dancing can create not only a story, but also a feeling, a character, a symbol, a work of art, and an expression as they move through time and space.

Contemporary/Modern is a blend of many styles. The class allows the choreographer and dancer freedom to explore their minds and movement through dance. Age 5- Adult

Contemporary – Teen/Adult – Mon 7:55-8:55
Hip Hop
Hip Hop is always cool and fun! Show off your funky self and learn the latest moves in this upbeat and popular class! Warm-ups, across the floor moves, and dance combinations will keep you moving and smiling. Instructors use safe, age appropriate and edited hip hop music and movements for all classes. Hip Hop is a great dance tool for girls involved with Pom dance teams. Age 6-Adult

Hip Hop/Jazz I – 5-7yrs – Monday 4:25-5:25
Hip Hop/Jazz II – 9-11yrs – Tuesday 5:35-6:35
Hip Hop/Jazz I – 7-9yrs – Wednesday 6:30-7:30

8 Week Session – Sept 8 – Oct 27
Hip Hop/Jazz – Adults – Saturday 12:45-1:45
Acro/Tumbling
Acro is a kid favortie! Students learn the basics of tumbling and acrobatics while building strength, flexibility and stamina needed to pursue this amazing and challenging art form. Forward and backward rolls, cartwheels, round offs, head and handstands, splits, bridges & back bends, walkovers and variations of all! This is an excellent way for dance students to explore the world of gymnastics, acrobatics and tumbling! Age 5-8

Age 5-8 yrs – Wednesday 5:30-6:30
Drum Fitness
Drum Fitness is the hottest new class for Fall Semester! Geared for the 50+ crowd, get your heart racing and muscles firing with this fun, fast paced class! Pound, stomp, and bash your way through this amazing cardio workout.

This class focuses on rhythm and feeling the music. Let's move!

Drum Fitness – Age 50+ – Monday 12:00-1:00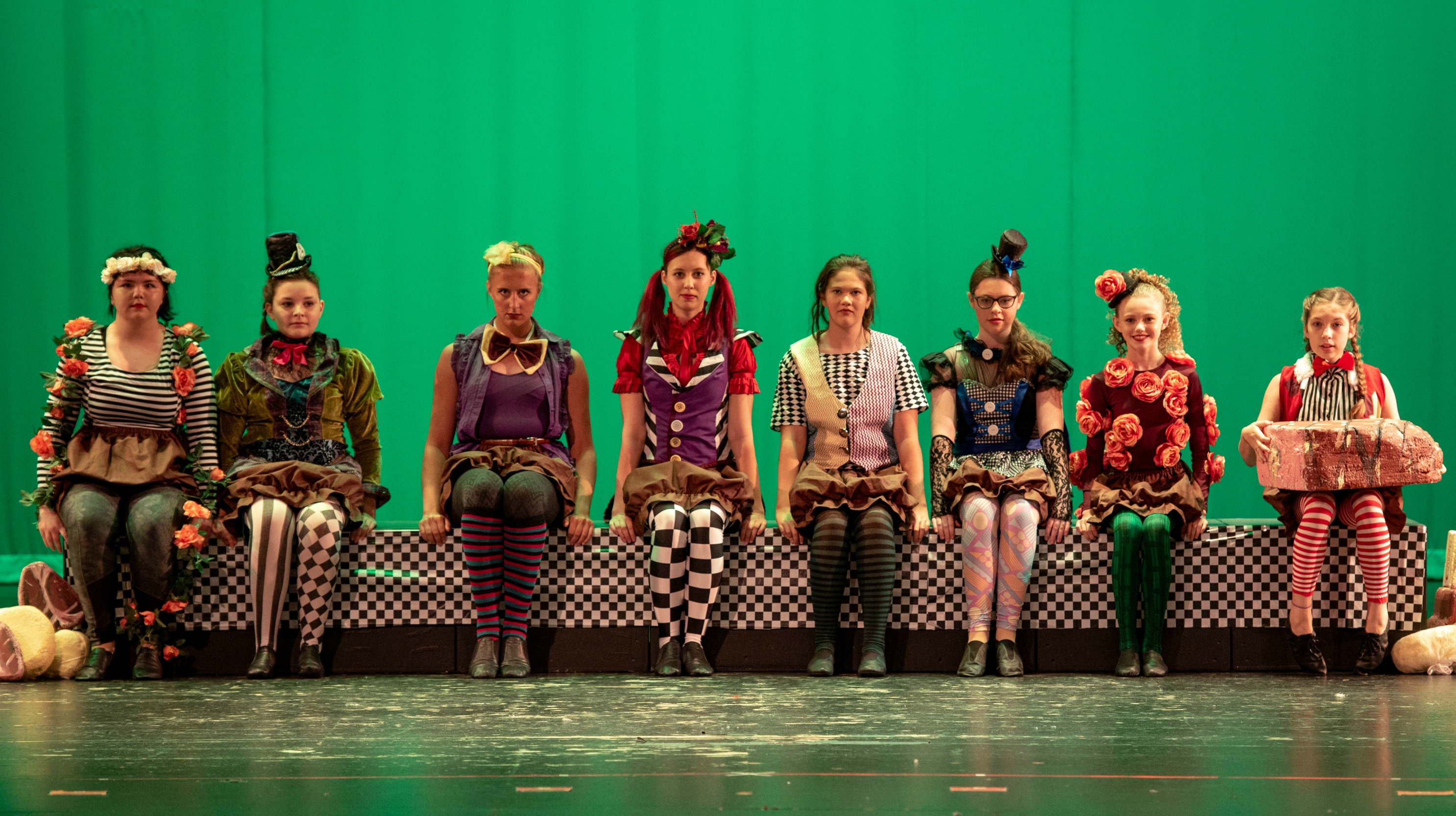 Dance Theater
Do you like to think outside the box? Does the idea of creating fun and unusual dances using unique props, sets or storylines intrigue you?
Dance Theater just might be for you!!

Dance Theater is open to all current Dance Tracks students age 11 and up. Students must be enrolled in any weekly technique class at Dance Tracks. Age 11-Adult

6 Sessions per semester – Fridays, 4:30-6:30
Adult Class Cards
Class cards are great for adults who want to try multiple classes, don't want to commit to a full semester, or want to supplement a regular class with drop in classes in other styles. Click below to learn more and to purchase class cards!
Purchase a Class Card Now
Ballroom
Enjoy a night out with that special someone and have fun learning the basics of ballroom dance!

Ballroom is currently being offered as private sessions for the 2018 Fall season. Please contact Dance Tracks for more information!

Dance Tracks also offers private lessons for Weddings – bride & groom, choreographed wedding party dances, parents, etc!
See our Wedding Dance Rates!